(PRWEB) October 10, 2011
SMEStorage and WebHostingBuzz today announced that their partnership had resulted in SMEStorage providing UK and EU businesses with a SaaS file server that resides in the ?cloud?, hosted in a new data centre in Amsterdam provided by WebHostingBuzz.
SMEStorage CEO Ian Osborne stated, ?Although we are a UK business, when we first launched the SMEStorage Open Cloud Platform for businesses, the majority of small businesses embracing the Cloud File Server proposition were in the United States. However in the last 12 months we?ve seen the United Kingdom and Europe rapidly catching up in embracing cloud technologies for business agility and productivity.?
?This has driven us to partner with WebHostingBuzz to have our SaaS Cloud File Server technology hosted and available within the EU.
One of the first customers to exploit this new EU based cloud capability is Excelian, one of the UK?s fastest growing technology company, who provide consultancy and services for Murex, OpenLink, HPC and cloud computing. Zoe Taylor, Excelian Operations Director stated: ?after an extensive review of the market offerings we chose SMEStorage because it delivers both the business agility and the cost benefits we need. Our primary considerations in choosing SMEStorage are regional / global remote working and security. We also need a solution that allows us to integrate with other information systems, such as SharePoint, while still being able to use SaaS initially, converting to an onsite cloud appliance at a later date."
CEO Ian Osborne continued, ?Data protection legislation differs greatly between the European Union and the United States. Although Safe Harbour frameworks exist, currently the safe harbour framework does not protect data from the US Patriot Act. We?ve had businesses asking us to ensure access to their data is strictly within the EU boundaries.?

The SMEStorage Cloud File Server enables organisations and administrators to configure the Cloud File Server to access public and private information stores that can be viewed and managed in an aggregated fashion, from a ?Cloud File System?.
It is possible, for example, for an administrator to configure public folders, such as HR, Marketing, Projects etc, to be stored on Amazon S3 while also enabling users to add their own Google Docs Apps accounts. This could be complemented by adding access to existing onsite files, such as those stored on a ReadyNAS appliance. User would see and manage all these files in an aggregated view from any desktop or mobile device.

The Cloud File Server Administrator can control user access, permissions, and notifications while also turning on file event auditing which logs any user access with GEO location information and can also set global encryption keys for security.
CEO Ian Osborne finished by saying, ?We?re pleased to have an EU presence and very excited about the direction our business is going. We believe we are unique in the path we are taking and that unlike other siloed vendors, who try to sell storage, we are truly trying to help our customers make sense of, and manage, the disparate information sources they have in their businesses.?
About SMEStorage

SMEStorage provides an 'Open' Cloud Platform in which file meta-data is synchronised but all files continue to reside on the original storage platform. In this way SMEStorage is able to offer value added services and clients to existing cloud storage providers, and acts as an enabler to provide a single cloud file system which enables files to be managed from one cloud file tree.
SMEStorage provides a rich client Web UI, Windows tooling, Mac and Linux tools, as well as many channels to access data such as the iOS, Android, BlackBerry, Windows Mobile 7 mobile devices and Google Gadget, Chrome / Firefox Plug-Ins, Facebook, and integration with other products such as Microsoft Office and Open Office.
About Excelian
Excelian is a specialised systems integration consultancy providing Murex, OpenLink, bespoke software development services and high performance computing solutions with particular expertise in grid and enterprise cloud.
Recognised as one of the UK?s fastest growing privately owned exporters and technology companies, Excelian celebrates its 10th anniversary in 2011 with c250 staff operating out of 20 countries and an annual turnover of more than


Pleasanton, CA/Chicago, IL January 06, 2012
Virtual Edge Institute (VEI), an international organization dedicated to advancing the development and adoption of virtual event and meeting technology, announced today that bXb Online has committed $ 100,000 in support of the Digital Event Strategist (DES) certification program, the only certification of its kind, and related Virtual Edge Summit education. The financial support offered by bXb Online, a marketing agency specializing in hybrid and online event strategies, will be used to sponsor professionals in pursuit of advanced credentials in this discipline.
Scheduled to launch in Spring 2012, the DES Certification is specifically designed to help develop the talent that organizations need to effectively engage audiences using online events. Michael Doyle, founder of VEI stated, ?The digital events community is an important and fast growing category within event marketing. The scale of the industry, when compared to the available talent in the digital events category, calls for investment in the talent base. bXb Online?s commitment will help ensure growth of a robust talent pool in the industry. We are grateful for this opportunity.?
bXb Online?s Founder, Tony Lorenz stated, ?As education is a pillar of bXb Online, we want to do what we can to support professional education in the digital event marketing space. Importantly, the DES certification program starts with best practices around strategy, a characteristic embedded in the DNA of bXb Online.? He added, ?Our support of the VEI scholarship program illustrates our commitment to lifelong learning, and the growth of our industry.? While not a condition of this commitment by bXb, Lorenz encourages his industry colleagues to consider a match of up to 100% of this pledge to further expand VEI?s DES certification program as a critical component of the entire event marketing landscape.
More information on VEI?s DES certification program is available at http://www.virtualedgeinstitute.com. Details about the bXb Online DES scholarship program and registration for scholarship applications will be available January 31, 2012, at http://www.bxbonline.com.

In the interim, interested professionals may sign up for scholarship updates by emailing their complete contact information to desscholars(at)bxbonline(dot)com.
Join the bXb Online Press Conference | Face-to-Face and Online

During the Virtual Edge Summit

Tuesday | January 10 | 2012

8:00a ? 8:30a Pacific Time

VES Discovery Stage | Learning Lounge | San Diego Convention Center | San Diego | CA
To join this press conference online, visit http://www.virtualedgesummit.com.

Click on "Register Now" and register as "Media" for complimentary admission to the virtual environment.
Resources:

bXb Online FAQ?s | bxbonline.com/FAQ

Video | Michael Doyle Interview with Tony Lorenz | http://www.youtube.com/watch?v=rCd8pGP7xlo

Virtual Edge Institute | virtualedgeinstitute.com

VEI Digital Event Specialist Certification | virtualedgeinstitute.com/des-certification/des-overview/
About Virtual Edge Institute

The Virtual Edge Institute (VEI) is an international organization dedicated to advancing the development and adoption of virtual event and meeting technology and best practices for collaboration and marketing. This is done by supporting and contributing research, education, thought leadership, promotion, and professional networking. The organization will host the 2012 Virtual Edge Summit in San Diego, CA, January 9-12, 2012. For more information visit http://www.virtualedgeinstitute.com.
About bXb Online

bXb Online accelerates the power of face-to-face marketing through online business stories and experiences. Founded by industry leader Tony Lorenz, bXb Online delivers online event strategy, creative, content development, and management solutions that brands rely on to activate their business events to the next level. In concert with leading meeting organizations, bXb is developing an industry platform for event marketing professionals and the communities they serve. Headquartered in Chicago, IL, bXb Online partners with world-class leaders in their respective categories, including Freeman, INXPO, Professional Convention Management Association, and the Virtual Edge Institute.
Learn how bXb Online can accelerate your event marketing strategy today: bxbonline.com
###


Los Angeles, CA December 13, 2011
Colocation America, a leading provider of colocation services, dedicated server hosting, and connectivity, is pleased to announce that it has signed a Service Provider Agreement with Dome9 Security to offer its first-of-its-kind cloud security firewall management service to Colocation America?s growing customer base.
Dome9 Security is the only cloud server security service to automate cloud firewall management, closing ports such as SSH, RDP, and MYSQL otherwise left open so administrators can connect to and manage their servers. This common practice leaves servers and their data vulnerable to hackers. Dome9 secures all administrative ports enabling secure access, on-demand.
"Data safety is among the chief concerns for clients setting up dedicated servers and we are delighted to offer an additional level of security with the Dome9 server security management firewall," said Albert A. Ahdoot, Business Development Director at Colocation America. ?Our partnership with Dome9 is a major achievement in our ongoing commitment to providing our clients with access to the most up-to-date technology solutions.?
?We are pleased to offer our service to Colocation America customers to best secure their infrastructure,? said Dave Meizlik, VP of Marketing & Business Development at Dome9. ?No other cloud security service automates firewall management, and by partnering we?re able to provide Colocation America customers with a valuable service to enhance their security management.?
About Colocation America

Established in 2000, Colocation America has grown to become one of the most reliable data center providers in the United States and is the premier Los Angeles data center provider. Based in Los Angeles, California, the company was built from the ground up by professional engineers with a vision of delivering a fully integrated, trusted colocation server hosting service. With numerous data center locations in major U.S. cities, including 60 Hudson in New York and One Wilshire in Los Angeles, Colocation America has direct access to over 240 bandwidth providers around the world and can scale Internet connectivity to meet client needs. For more information, visit http://www.colocationamerica.com
About Dome9 Security

Dome9, the leader in cloud security management, automates and centralizes cloud firewall management across all servers and clouds. Available for both enterprises and hosting providers, Dome9 supports clouds, VPS, dedicated servers, and Amazon?s EC2 Security Groups, across all major operating systems and service providers. Dome9 is headquartered in Tel Aviv, Israel, and is venture backed by Opus Capital Ventures. For more information, visit: http://www.dome9.com/.
###
UK December 04, 2011
Birmingham: Packt Publishing is pleased to announce its venture into First Look and New Features books and eBooks. Packt?s First Look and New Features books are short, fun, and get readers started with condensed valuable information. Packt has published two such books recently: Google Plus First Look and Microsoft Dynamics CRM 2011 New Features.
Google Plus First Look: a tip-packed, comprehensive look at Google+ book and eBook shows readers how to join Plus and provides information on the kind of setup that guarantees a successful and fun-filled experience. Whether restarting social media participation from another network or just jumping in for the first time, this book leads readers triumphantly through Plus. Like Plus itself, the book is fun, exciting, and condenses everything needed for maximizing enjoyment in an easily readable format with tons of informative illustrations.
Packt's Microsoft Dynamics CRM 2011 New Features book and eBook is a one stop resource for getting to grips with all the new features of Dynamics CRM 2011. To make learning fun and engaging, the book builds an Airline Compensation Management (ACM) system using Dynamics CRM 2011.
Packt has more First Look and New Features books in development: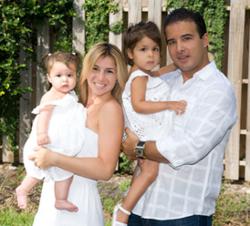 Fort Lauderdale, Florida November 03, 2011
For anyone in the entire world who is suffering from hair loss and considering a surgical hair restoration procedure, now is the time to do it! Dr. Bolton, a pioneer in the industry, and his staff with more than 50 years of combined hair transplant experience will be performing all 10 MAXHARVEST TM procedures. The cost of a MAXHARVEST hair transplant procedure is $ 12,000. And in this case, it becomes tax deductible. The starting bid for each procedure is $ 6,000. To place a bid on the procedure please contact Amy(at)greathairtransplants(dot)com.
Spinal Muscular Atrophy occurs in 1 out of every 6,000 children, there are currently no treatments or a cure. Aldo and his wife Fiorenna refuse to give up or lose hope. Mia is their little girl and they are going to do everything in their power to protect and take care of her. The Israel family is trying to raise as much awareness to this disease as possible. Awareness helps to raise more donations to help find new treatments or a cure. The Israel family is hosting "The Gala of Hope? for Mia on November 17, 2011 at the Seminole Hard Rock Hotel and Casino in Hollywood Florida.
?The Gala of Hope? is your chance to help Mia and children just like her. No child should have to endure this. The Israel family has teamed up with the local community and several local doctors. There are numerous people and merchants donating to the cause to help raise the funds necessary to find new medical treatments or a cure.
Among the merchants donating to the raffle are JR Dunn Jewelers, The Improv, and Ferrari ? Maserati of Fort Lauderdale. One of the doctors who is donating to help support the Israel's is Dr. Brett Bolton of GreatHairTransplants.com. When Aldo was suffering from hair loss, multiple doctor?s that he met with told him that his hair loss was too far gone and could not be restored. Aldo refused to give up hope and kept on researching until he found Dr. Brett Bolton. In just five short months, Aldo has received what would be perceived by many as a miracle! Aldo now has the appearance of a full head of hair after only one procedure. His perseverance paid off, and now Aldo is looking for another miracle for his daughter. It is this type of dedication and perseverance that Mia needs right now.
Dr. Brett Bolton has donated10 of his MaxHarvest hair transplant procedures valued at a $ 120,000 to auction off at the Gala in an effort to help the Israel family on their quest. Dr. Bolton commented, ?My desire is to do everything in my power to help the Israel family raise money and awareness to this deadly disease. I consider each and every one of my patients as my family and for this to happen to any one of my family members is unacceptable.?
The Israel family is determined to do their part to help find a cure and defeat this deadly disease! So come to the gala, and show your support. What if Mia was your daughter?
# # #
St. George, UT This summer 21, 2011
BestWPTricks is really a website featuring the best WordPress tips and methods for implementing WordPress blog software. Website owners will discover here is how to create and install WordPress, how to earn money blogging, and just how to make use of WordPress plug ins, WordPress styles, WordPress icons, plus much more. An issue that website owners frequently request is ?Who is the greatest WordPress host?? In reaction for this question BestWPTricks.com announces the very best 3 WordPress hosts.
The very best 3 WordPress hosting service companies include iPage, BlueHost, and GoDaddy. All these three website hosting companies are recognized for supplying the best website hosting tools and features for personal and business website proprietors. The 3 companies offer cheap website hosting plans that make it easy for virtually anybody to produce a website. Using among the best WordPress hosts provides website owners with web templates, tools, and plug ins to create creating and looking after an expert website easily.
iPage is really a leader in website hosting offering limitless website hosting space, bandwidth, domain names, MySQL plus much more. iPage is serving over a million domain names with 6 worldwide locations and it has a lot more than 800 employees open to serve clients around the world. WordPress hosting is among the best website hosting features provided by iPage. The iPage team knows what must be done to create and configure a WordPress site, that's why they've produced an entire number of step-by-step video lessons since the fundamental subjects which are necessary to creating and looking after a WordPress web or blogsite. Furthermore, iPage offers 24/7 United States phone support and live chat support to help clients with any problems or questions that could arise. iPage coupon prices can be obtained around the BestWPTricks.com website.
Second one of many best WordPress hosts is BlueHost. Like a top website hosting company since 1996, BlueHost knows the website hosting industry. They are fully aware what must be done to supply the very best customer support, which servers and equipment would be the most dependable, and which free website hosting tools are crucial. Because WordPress is among the best blogging software systems available, it's a considering the fact that BlueHost not just offers WordPress hosting like a free one-click wordpress plugin they also offer blog support to help website owners with moving a WordPress blog, upgrading plug ins, altering a WordPress URL, plus much more. BestWPTricks.com also offers special BlueHost coupons available online.
The 3rd hosting company to create their email list of best web hosting companies is GoDaddy. Most website owners have come across GoDaddy, whether it's the GoDaddy advertisements as well as other GoDaddy advertisement that first catches the website owners attention, it's apparent that GoDaddy doesn?t simply do website hosting. GoDaddy offers practically every website hosting product and repair that the website owner will have to create any kind of website from the small personal site to some large corporate business website selling items online. Selecting to set up a WordPress blog or produce a WordPress website is among the free website hosting possibilities with every GoDaddy web hosing plan.
Most major website hosting service companies provide a WordPress wordpress plugin. Why BestWPTricks has selected these because the best three WordPress hosts is due to the general website hosting experience that's open to every website owner. All these three top web hosting companies supply the best website hosting tools, features, and repair. Each host provides a number of website hosting tools and options to ensure that they are able to meet the requirements of each and every website owners, in the novice towards the expert.
About BestWPTricks.com
http://world wide web.BestWPTricks.com is really a website offering an abundance of details about the WordPress blog software. Website owners will discover detailed articles on from setup and install towards the best seo approaches for WordPress. The BestWPTricks team has a lot more than ten years of expertise within the website hosting and Internet services industry.
# # #